UW INSPIRE
Partnerships for Early Learning: Story Time STEM
The Opportunity



(May 4, 2017)
Today, national, state, and local attention is rightly focused on the importance of increasing access to high quality early childhood education (PreK-3rd grade). A critical part of that work is developing resources and professional learning for formal and informal educators to guide children through high quality learning experiences. Locally, schools and other child and family serving organizations are at different stages in addressing this challenge. The Partnership for Early Learning (PEL) project builds upon efforts already underway and develops toolkits that can be utilized across contexts.
We know that both formal and informal educators are critical players in fostering the cognitive learning of young children. Our aim is to design toolkits that educators can use to expand story read-alouds in classrooms, libraries, after school programs and homes. These tools will help educators enrich shared reading experiences through mathematical, literary and scientific talk, ultimately having a positive impact on children's learning across these disciplines.
The PEL project, initiated in 2015, supports partnership across the UW Seattle and Bothell campuses, King County Library System, YMCA Powerful Schools and Puget Sound region schools. Pilot partners also include Para Los Niños, Chinese Information Service Center, and KPlus.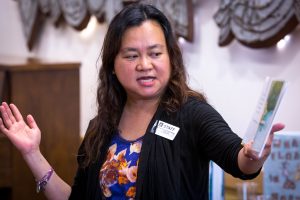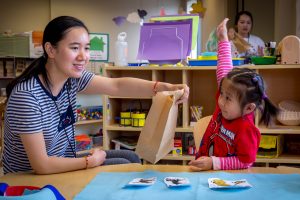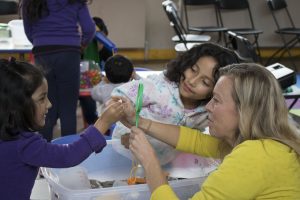 The work of PEL is to:

Develop a set of resources for shared reading experiences exploring math and science concepts that can be utilized across informal and formal learning settings for young children (PreK-3rd grade).
Design and implement in-person and online professional development experiences for educators to support these learning experiences.
Gauge the impact of these resources on educator practices and young children's learning in literacy, mathematics and science.
Share these resources with formal and informal educators in the region.
Develop authentically reciprocal research-practice partnerships to support young learners.


The Pilot

Increasing diversity in STEM education and STEM fields requires incorporating ways of knowing from a wide range of cultures. Authentic learning partnerships across contexts and across research and practice is critical to that goal.
Story Time STEM toolkits are flexible across P-3 contexts and are designed to be used by classroom teachers, librarians, out-of-school practitioners, and families. The toolkits are developed around a science theme, such as food, water, and plants. Each toolkit includes four read-aloud books, two resource books, guides for shared reading and discussion, supplies for related activities and additional resource information. These toolkits are designed to work within current shared reading, read-aloud or story times. Our goal is to support adults to engage children in the exploration of math and science concepts by experiencing and discussing children's literature. These experiences encourage children's engagement, thinking and learning.
Learn more about our PEL colleagues
Contact

Deborah Massachi, INSPIRE Managing Director: massachi@uw.edu
The Partnerships for Early Learning project is supported by the Boeing Company.