UW INSPIRE
Teacher Education by Design
Resources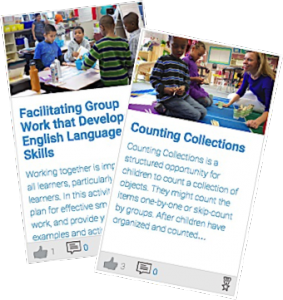 Teacher Education by Design (TEDD.org) hosts an online, open-source library of curricular and pedagogical tools for teacher educators. TEDD is organized around a framework for practice-based teacher education that reaches across grade levels and content areas, providing teacher educators with a common language for talking about pedagogy. Built out of our best knowledge about how professionals learn to practice, the learning cycle framework, organizes teachers' learning into a staged approach that includes exposure to representations of practice, engagement in approximations of practice, and opportunities to enact and analyze practice. Aligned with this framework, we offer content-specific instructional activities with which teacher educators can engage teachers. The TEDD instructional activities are vehicles for learning about and taking up ambitious teaching practices. For each instructional activity, TEDD offers resources and tools, including primer documents, videos of the activity, planning protocols, questions for debriefing enactments, and more.
---
Connect

While many of these resources were initially developed at the University of Washington, Teacher Education by Design (TEDD) hopes to leverage the distributed expertise of teacher educators around the world to develop a shared repertoire of practice, allowing us to collectively learn about, negotiate, refine, and improve teacher educator practice. Join us in this conversation!
Create an account at TEDD.org to access resources and receive updates on new instructional activities and teacher educator pedagogies
Pilot a program profile on TEDD to curate your teacher educators' resources
Share your own activities with the TEDD community
Stay in Touch: UWTEDD@uw.edu or klomax@uw.edu

Teacher Education by Design is supported by the generous support of the Bill and Melinda Gates Foundation and the Schustermann Family Foundation.