UW INSPIRE
EduDesign Learning Communities
Two Early Career Cohorts will begin this fall serving teachers in the 1st-3rd years of teaching. Interest forms open now.
Fall Start Info Sheet

About EduDesign

Teachers have a unique perspective about what they need to improve their practice. EduDesign is an experimental space that supports teachers to engage in a collective process of inquiry in order to grapple with self-identified questions and problems of practice. The fellowship is a year-round experience that kicks off with a summer institute and includes multiple convenings throughout the year. Each cohort provides space for fellows to build community, make sense of big ideas together, support one another as professionals, and grow their justice work.

EduDesign is not your typical professional development. Instead, it is a collective approach to learning. Each cohort is led by a team of teacher-leaders positioned not as experts but as co-learners alongside fellow participants. Each cohort will explore ideas together with support from College of Education staff and faculty. Admitted fellows participate and receive clock hours at no cost. This year we have 3 cohorts that will start in summer, serving teachers who are in their 2nd year of teaching and beyond. In addition, 2 cohorts will begin in fall for early career teachers.

---

2023-24 EduDesign Teacher Learning Communities
Early Career Cohorts:
Serving teachers in 1st – 3rd years of teaching
Centering Early Career Black, Indigenous and People of Color Educators
This cohort is specifically designed to build a community to support new Black, Indigenous, and/or People of Color (BIPOC) teachers to navigate their roles in schools. We will affirm and celebrate the expertise, wisdom, and agency that teachers of Color hold and bring into the classroom. In addition to learning about tools to name and challenge systems of oppression that have historically affected our racialized communities, we will also focus on exploring the different ways we can thoughtfully and consistently co-create liberatory educational experiences with our BIPOC students. By centering ourselves and BIPOC students, our cultural knowledges, histories, communities, and families, we will think through asset-based pedagogies to affirm our presence in schools and strengthen our work towards educational justice.
Our time together will be responsive to the interests and needs of the cohort and will include opportunities for community building and collective mentorship. Some of the questions we plan to explore together include:
How can we come together as a BIPOC teacher community for self care and collective care to sustain ourselves and our work?
How can we support one another to identify and advance our justice goals?
How can we understand the impact of our intersectional identities in our justice work with the communities represented in our schools?
How do we navigate between our personal commitments to racial justice and our professional commitments to schools that continue to perpetuate oppressive systems?
How can we reflect upon and celebrate our successes as early career BIPOC educators?
Supporting Early Career P-12 Educators' Agency for Justice & Wellbeing
In this cohort specifically designed to support all teachers who understand teaching as justice work we will build community to stay in the struggle. Together we will support one another to note how and when we have agency in our classrooms and schools so we can make crucial decisions based on our contexts and positionality. By looking to scholarship around culturally responsive and sustaining pedagogies as well as social and emotional wellbeing, we will deepen our understanding and practice of pedagogies that draw upon the strengths, experiences and wisdoms of our students, their families, and their communities.
Our time together will be responsive to the interests and needs of the cohort and will include opportunities for community building and collective mentorship. Some of the questions we plan to explore together include:
How can we move our justice goals forward in meaningful ways while learning to navigate the challenges of the profession?
How do we collectively sustain ourselves and maintain our wellbeing as we meet the needs of our students in educationally just ways?
How do we continue to reflect on our own identities, privilege, and power, to mindfully leverage agency in our classroom communities?
What are manageable ways to bring students and others (e.g. their families, colleagues, administration) into justice work in our classrooms?
How can we collectively share challenges along with celebrations while making progress toward our teaching goals?
Dates for 2023-24 Early Career cohorts:
Fall Kick-Off: Saturday, Nov 4 (9:00 AM – 12:00 PM) ONLINE
Tuesday Sessions: Dec 12 | Jan 9 | Feb 13 | March 12 (4:30 – 6:00 PM) ONLINE
Final Saturday Session: May 4 (9:00 AM – 10:30 AM) HYBRID (+ OPTIONAL 10:30 – 12:00 IN-PERSON Celebration)
Clock Hours for full participation: 10.5
---
EduDesign Teacher Learning Communities that start in summer serve teachers in their 2nd year and beyond of teaching.
See what we are exploring this year in our Summer Start Inclusion, BIPOC, and K-12 cohorts in the information sheet below.
**Applications are closed for 2023-24 summer start cohorts. Join our

mailing list
to stay updated on future opportunities or email ConnectEd@uw.edu for more information. **
---
Why We Do This Work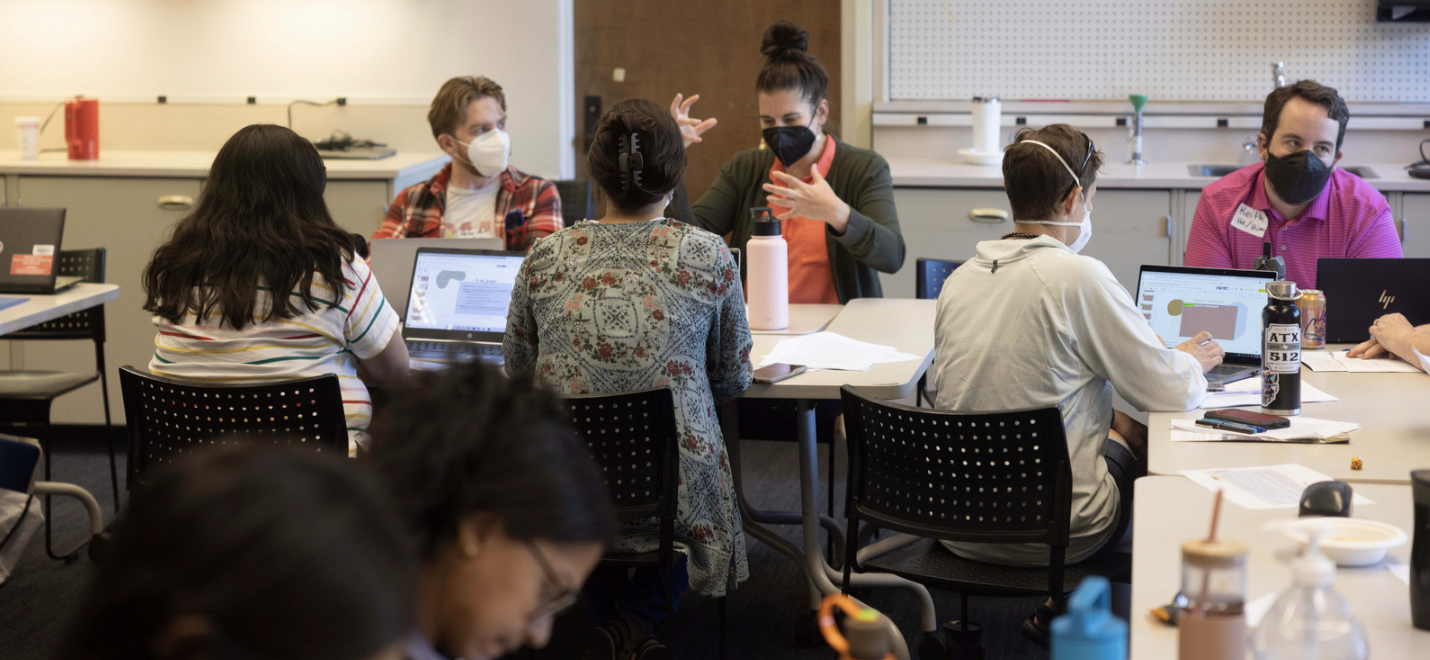 Teaching practice must be dynamic in an ever-changing field with evolving student needs. Unfortunately most teachers lack vital opportunities for hands-on professional learning and collaboration with peers. In fact, only a small percentage will ever even see their colleagues teach. This professional isolation is detrimental to serving students well and contributes to teacher attrition, with high costs for students and the state.
The UW College of Education EduDesign Fellowships support teacher retention by offering spaces for teachers to:
Feel connected to a community

Feel heard and empowered

Feel effective for their students

Continue learning and shaping their practice

See a future for themselves, including leadership opportunities
The program supports social justice teachers and teachers who are Black, Indigenous, and People of Color (BIPOC) to navigate educational systems and transform schools to be places where BIPOC and other minoritized students thrive. Fellowship cohorts convene teachers across schools to explore pedagogical questions and instructional practices together. This initiative is grounded in:
teaching for justice and equity
identifying and trying out actionable and practical methods
learning from teachers' experiences and expertise, as well as current research
The fellows are supported by UW staff, faculty and community-based organizations to build engaged and meaningful learning for teachers and the ability to bring that learning back to their schools.
EduDesign has had consistently positive results. In spring 2022, 93% of survey respondents reported feeling supported as a teacher, 81% said it helped them feel recognized as a professional and supported the development of their professional network. 63% shared that EduDesign shifted their understanding of their students and 71% reported that the fellowship increased their confidence to try out new ideas with their students. We continue to build on the design of the project to better support teachers each year, and invite your help to grow this effort to support Washington's teachers and students as a community partner, local educator, or donor!
---
For more information: connected@uw.edu | @UWEduDesign